When Sarah Clarkson was pregnant with her first child, the Oxford scholar took to writing a book dedicated to the babe with the intent to inspire her to grow into a reader. The book, aptly titled Book Girl, is a glorious tribute to the power books have in profoundly shaping the person we long to become.
In the book, she discusses the Christian fiction category at the booksellers, filled to the brim with "Christanese" speak, but inadvertently featuring a secular plot and form. She then contrasted these books with great classics, like those of Tolstoy's Anna Karenina, books written in secular text, but depicting a vividly Christian worldview.
"Anna Karenina is about an affair, while bookstore may carry ½ dozen Christian romance with couples who get to their wedding with nary a kiss. Dialogue may include verses straight out of the Bible, while Anna Karenina revolves round the decadence of Russian high class society, gossipy intrigues. But many "Christian" romance stories focus on a secular model of romance and self-fulfillment, where emotion is valued as truth, where trouble miraculously disappears. Anna Karenina wrestles with desires of heart and integrity—and handling the consequences of "listening to your heart."
In the musical theatre world, I recently discovered Nastasha, Pierre and The Great Comet of 1812. Its plot is lifted from Tolstoy's other well-known tome, War and Peace. It's been out longer than Hamilton, and yet am just now personally discovering it. Why did it take me this long to find out?? Lin Manuel Miranda was inspired to cast Phillipa Soo as Eliza based on her fiery performance of Natasha in this show back in the initial cast.
It has a bit of a messy start. The original performer they had settled on to play Pierre was Mandy Patinkin. Patinkin of Criminal Minds, Inigo Montoya, and Yentl fame. He would have been INCREDIBLE. But he voluntarily bowed out of production after a tweet storm originated over the blind casting fan-favorite for Pierre hadn't been chosen.
I wish recordings exist of Patinkin in the role. He would have interpreted the depressed, earnest Pierre with appropriate angst. The alternate who was ultimately picked, Josh Groban, is vocally amazing—obviously– and in the glimpses of live performances I have come across, he is decent at capturing the man's rage and sensitivity. But he seemed miscast in that he was too youthful to portray him with all the weight of aged bitterness in inherent to the role.
Props to Groban in extending his talents into the acting realm.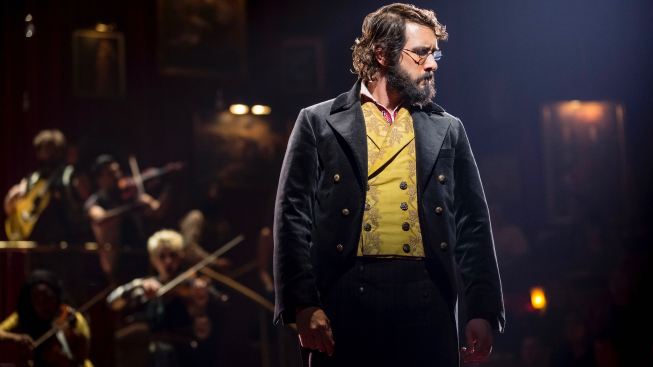 The music in the show is a heady conglomerate of musical genres. Russian folk (most obvious choice, since it's a dinner theatre reenactment of Tolstoy's War & Peace), 80s pop, EDM.
His musical stylings to character development are replete within the score.
Take Natasha's big solo, in which the bride-to-be gushes over her supposed devotion to Andrei despite aaa disastrous meet up with the future in laws. There is a parallel 4ththat rocks as a triplet over the bass clef chords. The music lacks a stable center, which is indicative of Natasha's own lack of stability in her "love" for Andrei. One song later, the naïve 19 year old is swept away by the pompous, preening Anatole at the opera, and she commits wholeheartedly to a man who is already married, a fact she didn't even think to inquire on.
There are chilling, beautiful moments of dissonance. When Pierre survives a duel, his song "Dust and Ashes," conjures up a perfect blend of bitterness over wasted years and hope for salvation. "Is this how I die?"
Groban's tender and fast vibrato provide a gorgeous vehicle for the song's message. By the end of the musical, in the song referencing the show's title, "The Great Comet of 1812," Pierre as a protagonist finds meaning in this glorious display of creation. Tolstoy used nature not as a background to the plot, but as a physical manifestation of his character's own inner turmoils. While the comet heralded apocalyptic doom for others, Pierre sees it as a beacon of hope and renewal for his own mature life.
"I gaze joyfully
And this bright star,
Having traced its parabola
With inexpressible speed
Through immeasurable space
Seems suddenly
To have stopped
Stopped for me
It seems to me
That this comet
Feels me
Feels my softened and uplifted soul
And my newly melted heart
Now blossoming
Into a new life"